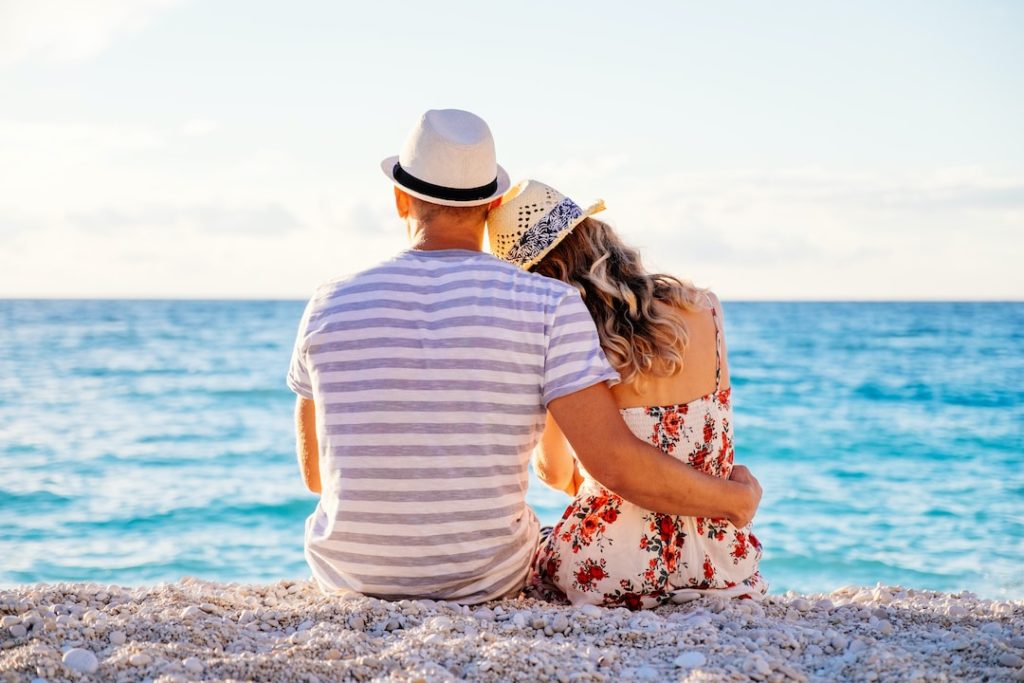 Are you looking for a way to spice up your relationship? After all, the best relationships are those that feel fresh and new. So then why not take a romantic getaway?
Romantic getaways are perfect because they allow couples to spend some quality time together without distractions or interruptions. They can also offer a chance to discover new things about one another while exploring new places.
The world is your oyster when it comes to romantic getaways, and whether you're looking for a weekend away or a honeymoon destination, the possibilities are endless.
From the historic British capital of London and its many attractions, including Buckingham Palace, to Montreal in Canada with its picturesque views from Mount Royal. Or anywhere else on Earth like Hanoi in Vietnam or Santorini Greece, there are plenty of romantic getaways that will make your trip one-of-a-kind.
Here are our top 10 romantic getaways and the reasons you want to visit them.
1) Paris, France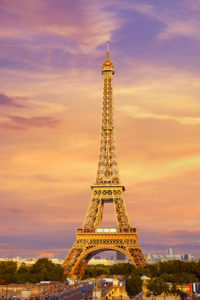 Known as "the City of Love," thanks to its romantic atmosphere on both banks of the River Seine with views of Notre Dame Cathedral in one direction and the Eiffel Tower in another, Lonely Planet readers voted this iconic city as their favorite romantic getaway in Europe.
With its cobbled streets lined with cafés serving croissants and cafes au lait at any time of day or night, it's no wonder this romantic city won the hearts of so many. This fantastic couples getaway also offers gourmet shopping, world-renowned cuisine, and a rich cultural heritage.
Paris is romantic in every season. From romantic walks along the Seine to romantic strolls through the Tuileries Garden when you can smell the jasmine and roses in summer, to romantic walks over the bridges in autumn as they are lit up with twinkling fairy lights at night.
Other romantic things you can do are:
Attend the lights of Christmas at the Eiffel Tower
Look for love as you stroll through the streets of Paris
Take a romantic boat tour on the Seine River to get views of all that is romantic about Paris
Grab drinks at a Parisian café
Enjoy a romantic sunset with that special someone on the banks of the Seine River
Visit Versailles Palace for beautiful gardens and romantic views
See paintings by artists like Monet at musés in Paris such as Musée d'Orsay or Musée Rodin, both near the river. To read more about these museums, click here.
Walk along the banks of Lake Daumesnil to enjoy its park-like setting and see breathtaking views of Paris from across its waters.
Attend fun events like Les Fêtes de Marquette – 10 days of concerts, exhibitions, theater shows, and fun nightlife street parties.
2) Rio de Janeiro, Brazil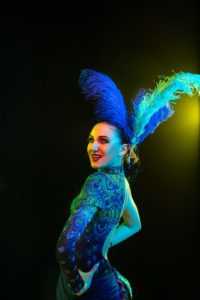 The beaches in Rio are considered among the most beautiful and romantic getaways in the world, with stunning views across Copacabana to Sugarloaf Mountain.
Take a romantic boat trip along the River Amazon dotted with Canopy Tours where you can see birds like Macaws while learning about conservation efforts underway to protect them.
The cuisine is amazing too! Delicious fish dishes served up at sidewalk cafes or on romantic candlelit tables overlooking gorgeous ocean views will make their hearts melt!
You can also:
Visit the National Museum and hear about Brazil's history
Take a stroll on Rio's Copacabana Beach
Enjoy a romantic dinner by candlelight at a fine dining restaurant
Hang out with cute sloths, monkeys, or armadillos at the Botanical Gardens in Gavea (Zona Norte)
Stroll down the streets of Santa Teresa, Rio's bohemian neighborhood, and view hundreds of art galleries, antique stores, or relax in one of the many parks
Visit the Christ statue overlooking Rio de Janeiro with breathtaking views across Guanabara bay to Sugarloaf Mountain (3rd largest statue in the world)
Buy a romantic Christmas gift like a beautiful piece of jewelry from "Rua Augusta", or take home some delicious coffee from Cafe Sienna
3) Rome, Italy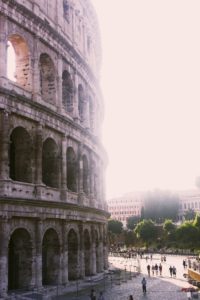 Not only is Rome an architectural masterpiece, but it's also a cultural one thanks to its ancient ruins and amazing views, romantic gondolas floating along the River Tiber, or firework displays that light up the skyline.
The city by night offers a romantic setting for dinner and drinks thanks to its many romantic cafes with low lighting and great wine.
You can also:
Visit the Trevi Fountain and throw a coin into its waters for good luck, but if you want to make your wish come true, kiss that special someone after they throw in their coin. If this happens by moonlight, it is said to bring good fortune!
See breathtaking views of Rome from Piazza del Popolo or Mount Gianicolo Hill, where you can stroll hand in hand with that special person while taking in stunning 360-degree vistas over Rome's skyline (a very romantic spot at night)
Watch as Vespa's whiz past on cobbled streets lined with gorgeous buildings painted pink, yellow, violet…all lit up at night. Then, catch your breath at the beauty of it all as you watch a gondola glide along the River Tiber and listen to it gently ebbing and flowing.
Antique stores are located all over Rome, but one of the best is Villa Spalletti Trivelli, which has been in business since 1869. It should be on your list as there are some stunning items here!
Attend the Festa di Sant'Ambrogio in Trastevere every January for lively music, food, and fun (and a great way to warm up if you're visiting at that time of year). To read more about this festival, click here.
4) New York City, USA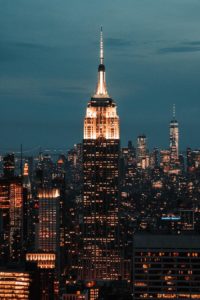 A charming city that is as glamorous and romantic as Paris or Rome is New York! It's one of the top destinations for couples because it offers so many things to do. You can take a carriage ride through Central Park, dine at a swanky restaurant and dance till midnight, or stroll around hand-in-hand window shopping and people watching.
Currently, 31 bridges are spanning across the East River, including the Brooklyn Bridge, which makes for incredible photos (especially when lit up by night!).
There have been over 100 movies filmed partially or entirely on the bridge. The best part…you don't even have to be a movie star to enjoy this romantic spot! Here you can see the nearby Empire State Building from another angle in addition to skylines of other nearby buildings like the Hearst Tower or the Rockefeller Center.
You can also:
Ride a carriage through Central Park
Dine at a swanky restaurant and dance till midnight
Stroll around hand-in-hand window shopping and people watching
Walk along the banks of the East River
Cycle across the Brooklyn Bridge (it's actually a great way to see NYC)
Take part in a romantic scavenger hunt. Click here for details.
Enjoy romantic dining that offers great views of Central Park or Times Square
Watch as fireworks light up the sky over Manhattan on New Year's Eve (it's one of the best ways for newlyweds to kick off their marriage)
Ice skating during Christmas at Rockefeller Center or Bryant Park
5) Chiang Mai, Thailand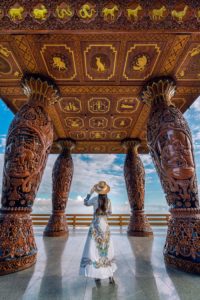 Nature lovers can take romantic walks through orchards, tropical flowers, and palm trees. You'll enjoy romantic candlelit dinners overlooking the city lights while enjoying great Thai food and romantic rides on elephants.
Chiang Mai is a charming little city in the North of Thailand. It is a popular destination for couples from all over the globe and is most famous for its yearly Flower Carnival.
When in season between December and March, there are colorful parades with flowers and floats from the city's 50 schools, cultural groups, and other organizations. It's one of Thailand's most enchanting events as it brings together local people to celebrate their culture through dance, music performances.
This northern city has many romantic top spots where you can book a hotel room with private balconies that include luxury accommodations.
Chiang Mai has some exquisite resorts, such as Alila Chiang Mai – which offers both romance and luxury at its best! It's set within tropical gardens with beautiful views of Doi Suthep mountain.
You can also:
Take hiking trails through the lush forested mountains with your loved one and listen to waterfalls tumbling down mountain cliffs or watch bugs light up in synchrony as nightfall approaches
Climb aboard a banana boat or bamboo raft and sail along still lakes and streams while listening to birds sing and monkeys chattering
Take part in a Phu Thai cooking class where you'll learn how to make traditional Thai delicacies, such as green curry chicken soup (incredible!), mango sticky rice, pineapple fried rice…all on your romantic menu!
Go horseback riding through the fields, mountains, and forests of Chiang Mai.
6) Saint Lucia
Visit the Four Seasons, one of the many romantic hotels for fine dining overlooking the Caribbean Sea, and listen to romantic music as you take in the breathtaking sunset. Consider it one of many options for a 5-star, all-inclusive vacation where you can do nothing but relax with your loved one with no worries!
There are more than 50 restaurants on-site, spa treatments and fitness center, an infinity pool with a swim-up bar, lounges, and bars dotted around various locations…and that's just indoors!
The beach has an extra mile of private shoreline so you'll never feel like you're crowded in here. There is also snorkeling, diving (for qualified divers only), kayaking, paddle boarding, tennis courts…the list goes on.
One thing you must not miss is a sunset walk along the white sand on your own private island. And if you're lucky enough to go in July or August, there's even an opportunity to swim with stingrays!
You can also:
Visit one of the best beaches in the world, Anse Chastanet Beach for powdery white sand and azure waters
Go snorkeling/diving around volcanic rock formations to see bright tropical fish. There are also coral reefs, sunken shipwrecks, and stunning underwater sea life such as octopuses!
Go zip-lining through the lush rainforest canopy or kayaking through mangrove tunnels (there's a great way to get up close and personal with nature)
Take part in a Saint Lucia cooking class where you'll learn how to make authentic Caribbean cuisines, such as delicious jerk chicken or spicy curried shrimp. 
Go horseback riding through the beautiful green rainforest and look out for slithering lizards or iguanas!
7) Santorini, Greece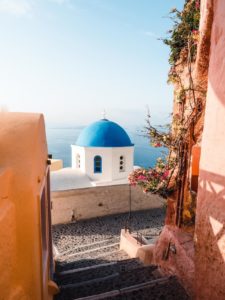 This romantic Greek island is beautiful with its romantic landscape of volcanic hillsides with small villages built into them. The view from the top of one of these hills looking down into the crystal blue waters that surround this romantic destination will make your heart skip a beat!
Plenty of romantic restaurants are awaiting you, too, as well as romantic dance clubs where you can let off steam after a long day walking around/sightseeing.
You can also:
Burrow in the white sand and swim in clear water…there are plenty of small, secluded beaches where you can totally switch off from everything else
Take a tour to explore steep cliffs overlooking the breathtaking blue-green waters
Spend time taking photos of this picturesque town with its old churches and windmills (you'll definitely get some great shots)
Climb one of Santorini's mountaintops or hot air balloon over it!
8) Hanoi, Vietnam
This romantic destination is perfect for food lovers as well as shopaholics! With romantic al fresco dining, romantic boat rides, and romantic massages, there is something for everyone on this romantic getaway.
Hanoi is romantic for its rich culture and heritage, but for lovers of the outdoors, there are plenty of activities to do as well!
You can also:
Visit the Ho Chi Minh Mausoleum covering his empty resting place with flowers to show your respects.
Take a walking tour around Hanoi's Old Quarter where you'll see ancient temples and pagodas dotted amongst some lively street markets where locals sell their wares with loud chatter and enthusiastic spirit…it's actually really fun and it makes for great photos!
Go shopping at Tay Ho Market, which is located in one of several beautiful lakes surrounding this city. It is considered to be one of the best markets in Vietnam because it offers a wide variety
9) Montreal, Canada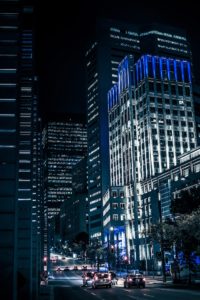 Montreal, Canada is a romantic city where everything sparkles! Not to mention the romantic views of the skyscrapers from Mount Royal. In winter, you can have a romantic walk in Old Montreal or enjoy great live music while drinking cocktails in one of the many romantic bars on Crescent Street.
Montreal brings on the romance with its popular jazz festivals and backdrop of the city's skyscrapers from Mount Royal.
There are also plenty of great activities for couples to do together:
Take a romantic horse-drawn carriage ride through Old Montreal and stop off at a restaurant for dinner after
Go shopping in this vibrant, buzzing city with its famous street art scene
Go for a romantic bike ride down the Canal de Lachine and grab a picnic
Take an architecture tour of this city to see examples from different eras including stunning art deco buildings and French chateaus. You'll also learn about Montreal's construction industry!
10) London, England
This historic British capital is definitely one of the most beautiful cities on earth! It has everything you could want in an amazing destination: history, culture, brilliant sights…the list goes on! The Tower of London alone is enough to take your breath away.
With one of the best film festivals in the world and theaters and concerts across the city, it offers much to see and do for anyone who is visiting on vacation. Not to mention the emphasis on shopping in this vibrant city with its designer brand shops, souvenir stores, and markets galore!
Along with Buckingham Palace, it makes up two of London's famous visitor attractions.
There are countless other things to do and see, including:
Go shopping at Regent Street, which has a vast selection of designer brands as well as regular shops like H&M and TopShop.
Go on a romantic boat ride around the London River where you can take photos of the Tower Bridge, clock tower, Big Ben, and Houses of Parliament from the water.
Visit Westminster Abbey, which is one of the best sites to see in London for its iconic structure that has stood since 1065.
Go for a romantic stroll along the River Thames, where you can see London's iconic bridges, Big Ben, and Houses of Parliament, or visit one of the many parks such as St. James Park, Hyde Park, or Richmond Park.
Visit Hyde Park, Kensington Gardens, or Regent's Park; these parks are beautiful with huge green spaces to walk around in. They're also home to many museums and art galleries.
Visit the National Gallery to admire some of the most extraordinary and famous paintings in the world.
Go on a romantic walk along Regent's Canal past cozy cafes, restaurants, and pubs.
Wrapping it Up with Hugs 🤗
Everyone deserves a chance to reconnect with their partner. Unfortunately, every day we're surrounded by work, school, and family obligations that can take up so much of our time. It's essential to put yourself first sometimes and do something just for you!
A romantic vacation is a perfect opportunity for you and your significant other to have some quality one-on-one time together without any distractions or responsibilities hanging over you.
When it comes to destinations, we all have different preferences. Some of us may want luxury and others a rustic escape in the mountains.
In this blog post, we rounded up ten top destinations worldwide that should be on everyone's bucket list for their next trip with someone special. From New York City to Italy, these are some unforgettable places you won't regret visiting soon!